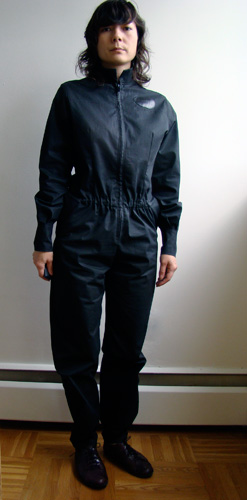 I made this jumpsuit in anticipation of the project. The idea of having a couple of 'uniforms' around relieved some of my anxiety about having to come up with something new to wear everyday.

I have always been interested in how uniforms have the ability to affect the psyche. Just by putting this jumpsuit on, for instance, I am suddenly ready to get to work in my studio. I also feel a (possibly false) sense of protection - from the elements, from dirt and grime, even from social conventions to a certain degree, almost like the uniform itself is my excuse for the very fact that I'm wearing it. It's like a disguise but it's actually the opposite.


*Special Note*

I have to apologize for my blogging ineptness. I'm learning this as I go so please bear with me as I fumble through the blog fog! I've been getting a lot of comments and am only just getting to some of them now. Sorry!