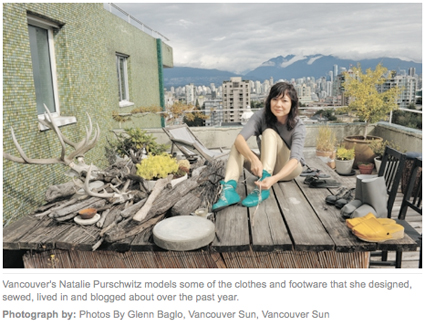 See the article
here
1 week later:
It's been a bit of a roller coaster ride for the past week since I've finished the project. It has taken some adjusting, some work to 'get me sea-legs' back. The first day was a bit of a disaster. I was so uncomfortable all day! Everything felt too small and my brand new bra had a prickly little something or other in the strap that I kept trying to find but it was not actually visible to the human eye. And I felt like an impostor in those clothes. Looking at the picture now, I think, who is that? And what a bad outfit she's wearing! I guess I have figured out a few things since then but honestly, I'm having a hard time trying to come up with some semblance of style. As a result, for most of this past week I've worn my same old makeshift stuff. Yupp, with the exception of shoes, it's been pretty much back to the old wardrobe that I've become so well acquainted with.
A friend of mine asked me what permanent changes I thought have occurred as a result of completing the project. And now after a week of being back, I think that wearing things that fit well and are comfortable will be permanently very high on my list of priorities. I thought I had always rated it high on that list but now, back in my old faves, I'm realizing that I was deluding myself.
2 weeks later:
I'm starting to feel a bit more like myself and am finally rediscovering my "style". It seems to be a precarious combination of a few key things that I made for myself this past year, some choice accessories and special pieces that I saved from my life before makeshift (It seems I didn't really keep very much stuff) and whatever "ready made" shoes will work with my look (the fun part, since I actually do have a lot of shoes).
I most often reach for my own handmade stuff but it is very satisfying to now be able to wear things that I didn't always have handy:
sunglasses!
oven mitts!
a kitchen apron!
a motorcycle helmet! (It was handy, but now I can wear it guilt free)
gloves! (I want to try to make a pair)
Also, I think I am going to buy some running shoes today. The time has come at last!
Some other things have happened too: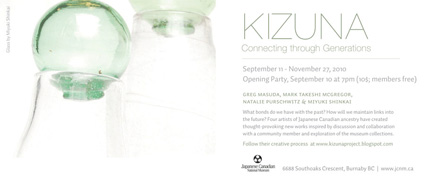 On Friday, the show
Kizuna
opened at the Japanese Canadian Nataional Museum. It is a show of four artists, commemorating the museum's 10 year anniversary. My piece is a path made of rocks that I have wrapped and sewn old clothes onto. I will be giving a talk there this Thursday (the 16th) at 7pm.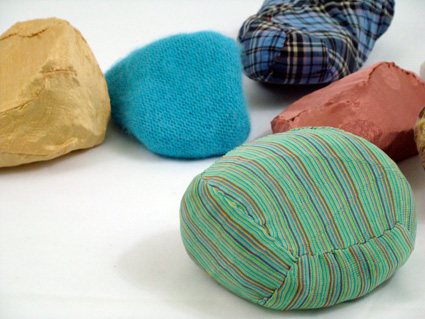 Also, I had fun DJ-ing at So Warm, the SWARM afterparty at VIVO on Thursday night. Thanks for coming out if you were there. If you missed SWARM, check out the show that just opened at the Contemporary Art Gallery. It's a gooder.